NDA 2023 Exams Screening Date is out: The Nigerian Defense Academy (NDA) said the screening examination would be conducted at specified centers around the nation on Saturday,15  August for all of its applicants. would you like to know the requirement for the NDA Aptitude test? if yes then I urge you to read till the end of this article so that you can have the full information about NDA Screening Aptitude Test  2023. It important that you download the NDA Past Questions & Answers Download PDF Original Copy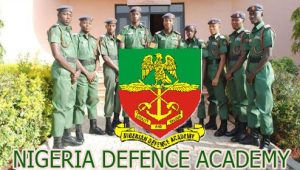 Latest News On NDA 2023 Exams Screening Date
This is to bring to the attention of Candidates that the Nigerian Defence Academy Screening Test will now hold on 15 August 2023 at designated centers by 7:00 AM prompt. All candidates are expected to come with their acknowledgment card, NDA Screening Test Admission Card, Unified Tertiary Matriculation Examination registration slip, two Postcard size (3.5 x 5 inches) photographs. Each candidate is to write his/her JAMB registration number, full names, state of origin, chosen course, name of the test center, and signature at the back of the photograph. All candidates are to wear their facemasks and face shields as any candidate without this protective equipment will not be allowed to write the Test. Please note for strict compliance.
Signed
AA ABOABA Brigadier General Academy Registrar .
NDA Past Questions & Answers Download PDF Original Copy
NDA 2023 Exams Screening Date 2023
The Nigerian Defense Academy Screening Test (NDAST) has been confirmed for the 72nd Standard Course for qualified applicants, which will be conducted throughout the country at different specified centers. Check out the  Full List of Nigerian Defence Academy (NDA) Examination Centers in Nigeria
The NDA Entrance Exam scheduled to take place at specified centers around the country on Saturday, August 15, 2023. Only candidates with registration number JAMB 2023 will be able to write the exams. NDA Past Questions & Answers Download PDF Original Copy
The Requirement for NDA 2023 Screening Exams 2023
Candidates have to arrive with the following documents to the exam centers:
Acknowledgment Form (downloaded from the internet)
JAMB 2023 Registration Slip
Examination Admission Card (downloaded from the internet after the release of JAMB result) Writing Materials which include original HB pencil for shading.
Two Postcard size (3.5 x 5 inches) Photographs with their Name, State of Origin, Course Choice, Exam Centre, and Examination Number written at the back.
It is advised that all qualifying candidates access the application portal on the NDA website www.nda.edu.ng to choose the exam center of their choosing and to print their exam card. "Note that only those with a duly printed Examination Card can be admitted to the different Exams centers."
What Time Will Nigerian Defense Academy Start Screening Exams
Candidates are expected to report at the test centers by 7:30 a.m. since the examination will take place between 7:45 a.m. and 8:45 a.m., while the test ends by 9:00 a.m.; any applicant who is not in the exam center by 9:00 a.m. would not be able to submit the exam.